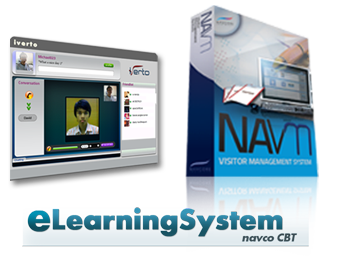 We realize competence is a key and one of the very important thing in very dynamic technology we are playing in. We have strong commitment to always improve and develop our competence in order to provide excellent services and High IT solution to our customer to face their competitive.
Navcore is founded by professionals with strong experience in telecommunication and internet area, both in operator and leading vendor. Navcore management team has long experience leads several projects such as access network, broadband network, wireless system, IP/MPLS backbone, transport network and other related project.
Facing to very dynamic competition and fast moving technology, we realize to always have quick leaner team with strong background and expertise. In their previous background they have shown their competence and commitment in delivering services for the client in several projects such as:
Information System and Business Application
Enterprise Resource Planning
Enterprise Resource Planning (ERP) as is a computerized system used to manage and coordinate all the resources, information, and functions of a business from shared data stores. Our solution has modular application units and "services" that allow a business to add or reconfigure modules while preserving data integrity in one shared database. We help customer to implement and customized the system beased own best practice business process.
Business Process Management
This is solution focused on managing and aligning customer business process with the SAP or other ERP systems. Business Process management (BPM) application is computerized application based on a holistic management approach that promotes business effectiveness and efficiency while striving for innovation, flexibility, and integration with technology. We help enterprise to mapping bisness process into BPM application, developing BPM application and integrating BPM application into SAP system. This approach is positioning BPM application as the front-end and SAP as the back end system.
Information System Application
The applications are designed to help people in handling large amounts of information, performing complex calculations, controlling many simultaneous processes. and automates of the information-processing activities of the organization. Just for example: transaction processing systems, office systems, decision support systems, knowledge management systems, database management systems, and office information systems. In developing these applications, we use engineering approach such as the System Development Life Cycle (SDLC) which is a systematic procedure of developing an information system.
Cloud Solutions
Software as Services Based On Windows Azure
With predictable IT spend through consumption based pricing and packages, Windows Azure allows you to focus on delivering services and value. Less upfront costs and technology management enable you to spend less time on operational hurdles and more time focusing on your competitive differentiators and delivering more to your clients.
Infrastructure as Services Based on Windows Azure
Windows Azure allows you to scale up and pull back capacity as required, enabling services to be arranged around periods of peak demand. Moving your applications and services to Windows Azure will ensure a 24/7, enterprise class service backed by reliable SLA's from Microsoft, as well as a rich Azure online services experience.
Travel and Tourism Solutions
Airline PSS and DCS System
Our airline solution is proposed for Airline which always need comprehensive solution to manage their service to the passenger from booking until departure. This solution is an integrated solution covering Inventory Management, Reservation-Ticketing System, Departure Control System, and Reporting System. Having this system will help Airline operator to easily setting up the airplanes including seat configuration, managing sales, creating a flight arrangement, departure and generating reports.
Airline B2C for Direct Sales Channel
Our solution is designed to help Airline Operator to expand their sales channel to Internet market. By having this system, passenger can book and reserve flights through website. Passenger can order the position of the seat or special service request such as food and beverage. This system in fully integrated to the secure and easy payment facility to the Bank. Enjoy your live with comfortable flight and easy book from every where. The channel can be extended to mobile Access from Smartphone and Tablet.
Hotel & Property Management System
This system is a cutting edge solution to help property operator or owner in managing operation of hotel and other property. The system provides experiences of revolutionary way for product management, room management, front-desk/stay view, housekeeping, room service, food & beverage, laundry and other entity within the property.
Based on latest technology, this system present simple pay-as-you-grow option that lets you start enjoying its benefits without the prohibitive upfront investment, and absolutely no excessive cost of infrastructure. It also provides more sales facility benefit such as direct online booking via web and mobile.
Theme Park Management System
Theme Park Management System is comprehensive solution based on latest technology in IT industry to facilitate the Theme Park Operator for managing product / inventory, reservation and ticketing system, on site sales for walk-in visitor, controlling check-in and analyzing business reporting.
This is fully integrated system for end-to-end cycle of theme park operation from designing product, exposing to sales channel, reservation, up to check-in process. This is system is also integrated to payment interface to the local Bank. The Sales channel cover for Sales Representative office, Travel Agent, Global Distribution System, Business/Corporate Partner, and Direct to Consumer.
Air Freight System (Cargo)
Cargo service not only needs to be fast, safe and secure but also reliable and cost effective. Cargo carriers need to offer innovative servie that respond quickly and effectively to changing of demands and market conditions, while keeping operational costs under control. The Cargo service system proposed to provide powerfull solution that simplifies processes, provides innovative tools and capabilities, enhances flexibility & scalability and optimizes cost. Cargo Service System is Designed to meet today and future needs of cargo operator companies, It is fully integrated, scalable and easy to use. it brings enhanced data integrity and lower information processing costs.
Insurance Distribution System
It is designed to address multi-distribution needs, providing a modern platform to support rapid business growth. Insurance System is a powerful front-end system that permits customers to manage all distribution channels such us agents, brokers and affinity from a single platform. Comprehensive features enable immediate access to the system and tools for real-time quotes and faster sales. A superior user experience and efficient user interface result in faster response times and improved channel and customer satisfaction. Our Insurance System more acceptable for front-end system for life insurance companies.
Point of Sales (POS) Solution
Generally, Point of Sales system is tools for sales person and cashier when serving the customer. It also has capability to record the transaction and connect to inventory system and back office system. This Next Generation Point of Sale Systems designed to meet the needs of almost any business environment, whether it is a Restaurant, Retail, or Store.